STAR Smog & Repair Center
All Smog Checks. Certified to do CAP Repairs. We also diagnose CHECK ENGINE lights!
Our station is equipped with state of the art equipment.
Appointments are not necessary, and you will be in and out in a short time, average time for a smog check is 15-30 minutes per vehicle.
Open: Monday – Friday 8am to 7pm
Saturday 8am – 4pm, Sunday 10am to 3pm
Phone : 1-619-516-3536
Auto Services
Air Conditioner Service
Air Bag System
Brake Service & ABS System
Catalytic Converters
Dealer Recommended Service & Maintenace
Door Glass & Window Regulators
Electrical Diagnostic & Repair
Engine and Transmission Repair
Key Fob Reprogramming & Door Locking System
Minor Body Damage
Muffler Replacements
Oil and Filter Change
Radiator Service
Suspension & Shocks
Smog Diagnostic and Repairs
Timing Belt Inspection & Replacement
Transmission Service
Tune-ups
$10 Off Any Smog Check ( Mention Coupon Before Service )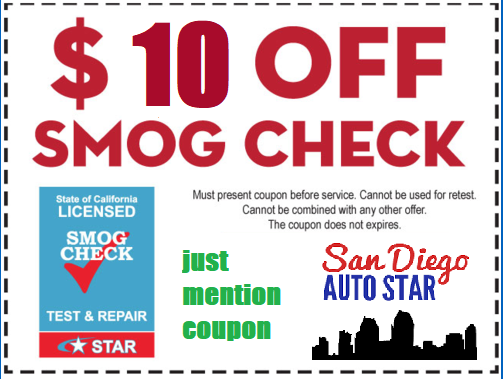 10% Off Labor Discount
15% Off Student & Military Discount
Ask Manager for Repairs